VIP Luxury Hair Care
GREAUX Healthy Hair Drops
GREAUX (pronounced "grow") Healthy Hair Drops is an enriched and intense mixture of essential oils, extracts and other ingredients proven to repair and protect damaged hair cuticles, heal and purify the scalp, stimulate hair follicles, increase oxygen intake, add moisture and prevent breakage. Ideal for weak or thinning hair.
Directions: Part hair every 1-2 inches and apply directly to scalp. Massage vigorously into scalp for 2 minutes. Apply 2-3 times a week or daily on thin areas.
Contains Red Seaweed Extract, Castor Oil, Tea Tree Leaf Oil, Peppermint Oil, Soy Protein, WheatProtein, Rosemary Extract, Ylang-Ylang Flower Oil, Water, Alcohol Denat, Nettle Extract, Citric Acid, Propylene Glycol, Caprylyl Glycol, Hexylene Glycol, Menthol, Ethylhexylglycerin, Phenoxyethanol
Warning: Some of the essential oils contained in this product are not recommended for use on children under 2 years old. This product is also not recommended for use by pregnant women. If you have an adverse reaction this product, such as itching or redness, suspend use immediately as you may be allergic to one ore more of the ingredients.
Customer Reviews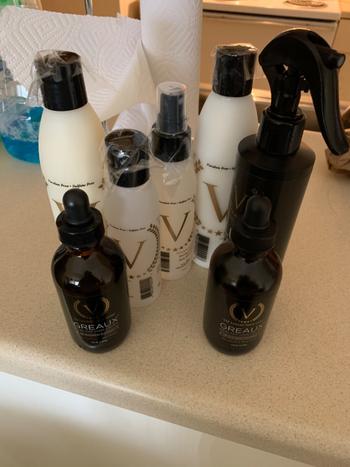 07/17/2020
I recommend this product
Excited
I'm just starting my Greaux journey. But I'm excited to see how it goes..
Chamilon W.
United States
09/04/2020
I recommend this product
Greaux Drops
Love this stuff. I buy two at a time.
LJ
Lesly J.
United States
09/04/2020
I recommend this product
Drops review
I love this product
Janet S.
United States
09/04/2020
I recommend this product
I didn't see any improvement.
Ashley J.
United States
08/13/2020
I recommend this product
Great product, but pipe is not secure.
This product is amazing. I love how it makes my hair tingle. I lost some of my edges due to stress. My edges are coming in as I've incorporated this in my hair routine. Not greasy at all! The bottle looks beautiful. The only issue is that the glass pipe broke, it fell from the topper and broke. So, the product deserves 5 stars, the bottled top 3 stars.
Anonymous
United States